Ultimate Veil Guide
Your top 10 veil questions answered by us!
How do I choose the right veil?
Deciding which veil to wear is a major moment in creating your overall wedding day look. After all, your veil is the MOST important accessory on your big day!
Nothing makes for a more dramatic entrance than a bride walking in wearing a veil.
With countless options of wedding veil styles and lengths, you can easily start to feel overwhelmed by choice. Here are some tips and tricks to help you decide on the right veil.
THE DRESS
Heavily embellished dress
As a general guide, if your dress is heavily detailed (pearls, lace, etc..), go with something simple. We don't want your veil to distract from your dress.
Simple dress
If your dress is simple (no embellishments, lace, etc..), you're most likely able to pair it with a pearl, crystal, or lace veil.

The veil's task is to frame, enhance and complete the final look.
HAIR
How will you be wearing your hair? Will your hairstylist be placing your veil? Do you have thin or thick hair? Which comb is best? Can I wear a veil if I'm planning to wear my hair down? We've got you covered.
If you have chosen a hairstyle with a lot of volume, it is important to choose a veil that will not weigh down your hairstyle (ie: long beaded pearl veil or heavy embellished lace). Most veils are totally doable with any other hairstyle!
If in doubt on which comb to choose, opt for the metal (silver, rose gold or gold). This way, you can secure bobby pins in the teeth of the comb for that extra hold. And, it works well with thin or thick hair!
If you plan to wear your hair down, follow this simple and fast tutorial for the perfect hold.
VENUE
Consider your venue's location, style and time of year during which you will be getting married.
A cathedral veil is the ultimate show stopper if you're having a formal wedding at a large venue such as a church (but can be disastrous in a beach setting). If you're getting married in a small chapel, it may be best to stick with a chapel veil or shorter.
If you're getting married in an outdoor ceremony, there are extra considerations to be mindful of. There may be wind, sand, and dirt to deal with. If you'd like to keep your veil in tip top shape, it's advisable to chose a shorter veil (elbow, fingertip, knee). HOWEVER, many brides are happy to live it up for the day and aren't too fussed about their veil trailing behind them along a dirt path.
For those slightly windy days, we offer veil weights which will keep your long veil weighed down.
Which length would best suit my dress?
Dresses with a short train or without a train are stunning when paired with a floor veil or chapel veil. Dresses with a longer train usually pair beautifully with an elbow veil, fingertip veil, or cathedral veil. For longer veils, we recommend your veil go slightly past your train.
Now, let's get into the different lengths!
SHOULDER (20"–23")
Short and sweet, a traditional length without taking away from the dress. This length will end at the top of your dress and provide a touch of softness to your look. It works great with dresses that have a bust waist or lower back details.
Shop Shoulder-Length (20) Veils
Shop Shoulder Length (23) Veils
ELBOW (26"-28")
An elbow veil is a great option if you're looking for something short and sweet but with a touch more flow than a shoulder veil. This length pairs nicely with a romantic ball gown style dress simply because the veil will end where the fullness in the skirt behinds (and it's quite dreamy)!
Shop Elbow Length Veils
WAIST (30")
Slightly longer than an elbow veil, but it makes all the difference! It pairs nicely with A-line dresses with a natural waistline. The bottom of the veil will draw attention to the waist. Great for short or long dresses.
Shop Waist Length Veils
FINGERTIP (40")
One of the most popular lengths. This veil ends at fingertip level just before the skirt flares out at the knee. This length pairs beautifully with most dresses and flatters all body types.
Shop Fingertip Length Veils
KNEE (48")
Designed to fall to your knee, this length offers drama and elegance without weighing you down. The veil can be adjusted to fall a little longer or a little shorter to fall just at your knee, depending on your height (be sure to measure)!
Shop Knee Length Veils
WALTZ/BALLET (60")
At five feet long, this length is perfect for any bride who wants the look of a long veil without really worrying about it (you can dance the night away wearing this one). It's perfect if you have a detailed train and want to expose it.
Shop Waltz Length Veils
FLOOR (72")
Best suited with full length dresses that do not have a train or boho style gowns. Depending on your height, a floor length veil grazes the floor.
Shop Floor Length Veils
CHAPEL (85″-90″)
One of the most popular lengths. Chapel veils are slightly shorter than cathedral veils (about 18 inches less). Best suited with dresses that have a train. This length can lengthen your overall look and is less "fluffy" since it's long and drapes beautifully. This veil makes for some nice photography shots (imagine the wind catching your veil). It's dreamy!
Shop Chapel Length Veils
CATHEDRAL (108")
One of our best-sellers. If you had the vision of having a long veil on your wedding day, this is the one! You can basically pair it with almost ANY dress. This veil extends roughly 2 feet onto the floor behind your dress which creates a stunning effect as you walk and pose for portraits. Keep in mind, this length is high maintenance – you will most likely need to have a bridesmaid on standby to help you spread out the veil to keep it from bunching at the bottom.
Shop Cathedral Length Veils
ROYAL CATHEDRAL (115")
This one makes a statement and is considered to be the most elegant and dramatic of them all. It instantly elevates any look with its impressive length. Best paired with a full length or classic wedding dress.
Shop Royal Cathedral Length Veils
USEFUL TIPS
If you're planning to wear a long veil, measure from where the comb will be placed to where you want your veil to end
Shoulder length veils work on any height of bride
If you're wearing a blusher veil, place the comb more forward on your heard so it doesn't come in contact with your lipstick.
NEED HELP?
On the fence about a length and just can't decide? Send us a message and we will gladly help!
What colour of veil should I get?
We offer the 3 most popular colours: white, light ivory and ivory.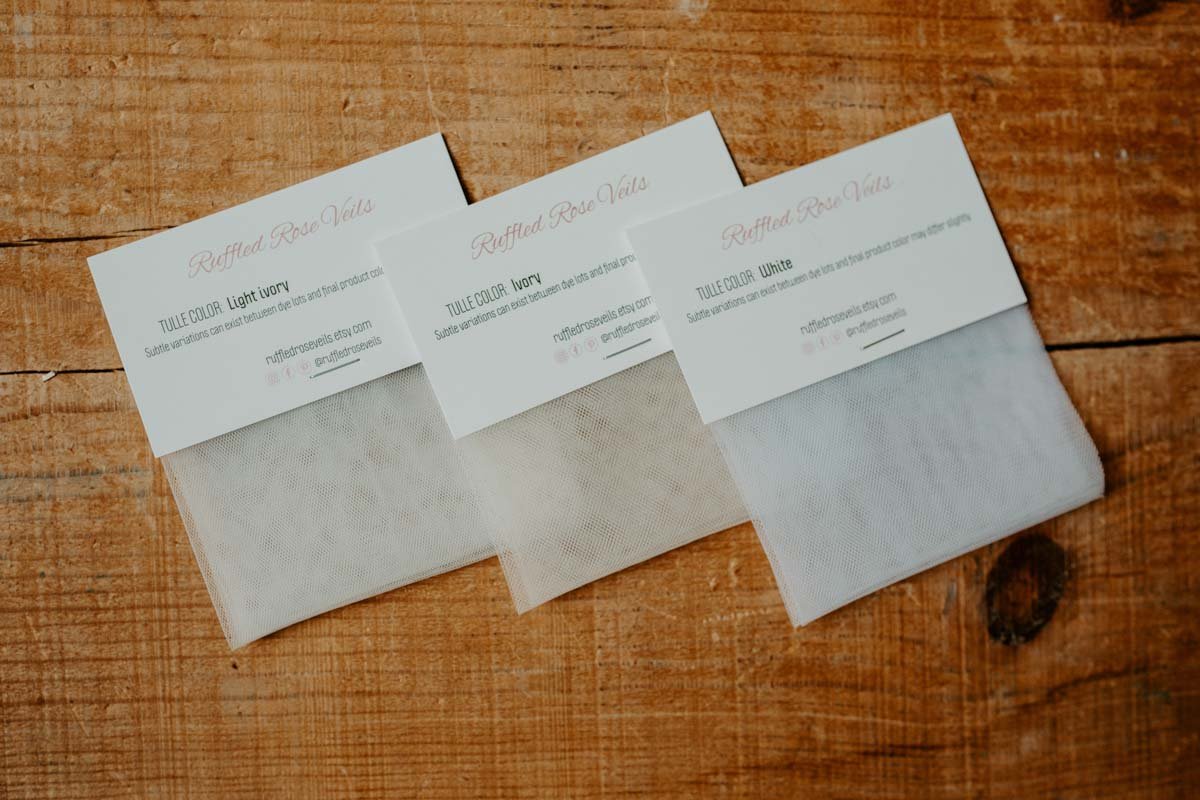 LIGHT IVORY
Our most popular option. Very subtle mix between white and ivory – often matches best with ivory / pale ivory gowns. 85% of our veils are made in this shade.
IVORY
In-between an ivory / moscato / light ivory shade.
WHITE
Pure white – matches best with white gowns.
USEFUL TIP: Most dresses today are a light ivory shade. Many times, the designers 'ivory' is so pale that a bride could mistake the colour for white. We see veils paired in the wrong colour too often so be sure to order swatches to compare against your dress or message us with a photo of your dress so we can help!
TWO TONE WEDDING DRESSES
This style has become very popular over the past couple of years. We're seeing more dresses with one colour underneath (often ivory or champagne) with a light ivory lace layer over the top. Our recommendation is to match your veil to the lace or overlay (lighter colour).
SWATCHES
Once you have the tulle samples, hold the folded fabric up to your dress to determine which colour would be best. It should be somewhat obvious since the tulle is folded in several layers so the colour will be more apparent. Once you determine which colour that matches, unfold the tulle sample to see the true colour (it will be much lighter).
USEFUL TIP: Plan to order tulle samples before you go dress shopping and take them with you! This will allow you to colour match on the spot (and you can always ask for assistance from the bridal shop).
Order Swatches
When should I order my veil?
The absolute best time to order your veil and accessories is around 3-5 months before your wedding. Our typical lead time is between 1-2 weeks as they're made to order, but if you're a little last minute, no need to worry! We offer a rush service which will put your veil at the very front of our production line and ships the following business day. Please ensure to add the rush service to your order at checkout and let us know your wedding date in the comments section. Express shipping is also available.
Rush My Order
What are the different widths and gathering options?
WIDTH
We offer two width options: 54-60 inches and 72 inches (most popular). There are no set rules for determining width, it's mostly based on preference.
54-60 inch (137-152 cm)
Sleek with limited fullness at the top and sides. If you want to show off your dress detail that is covered by your veil, this type is sheer enough to accommodate. This style hangs behind your shoulders which means it's ideally paired with dresses that feature decorative straps or sleeves.
72 inches (182 cm)
Moderate in height and width. This is our most popular (by far) option. It offers great coverage around the arms and it offers more of a romantic feel.
GATHERING
There are several different veil gathers to choose from.
For two tier veils, they can be fully gathered, center gathered or minimally gathered at the comb. The full gather means the full width of the veil is gathered at the comb. A center gather is the center of the veil only gathered, leaving sections of tulle on either side of the comb loose an flowing. It creates a very pretty effect around the bride's arms and shoulders. A minimal gather means no gather at the comb. The veils comb is simply sewn directly onto the flat middle piece of the veil.
For single layer veils, they can have the traditional gather where the full width is gathered. This is the most common gather style on single layer veils with a pleated gathering at the comb. It will sit in a slim column down the bride's back or if worn slightly higher on the head, it can frame the bride's arms and shoulders.
Single layer veils can also be made with a minimal gather which provides some cascading on the sides. This is a great option if you want your dress details to shine through, have a backless dress and want a "barely there" sheer look.
Can I iron my veil?
That's a big NO! You will melt the delicate tulle (and it will not be repairable).
We recommend steaming your veil. It's highly effective and will get rid of creases and stubborn wrinkles. See point #10 for how to care for your veil.
How do I care for my veil when I receive it?
What is a blusher?
A blusher is a traditional style veil that is worn over the face for the ceremony. A veil with more than one layer (usually longer than 30 inches) can be worn as a blusher. Our blusher is a standard length of 28 inches long but longer can be requested. If you want a sheer blusher, opt for a minimal gather at the comb where the blusher will fall neatly over your face.
Do your veils come secured with a hair comb?
Yes! All veils except the drop veil come with a comb secured. You have the choice between a clear or silver comb. Additional add-ons are the rose gold, gold, and wide clear and silver hair comb.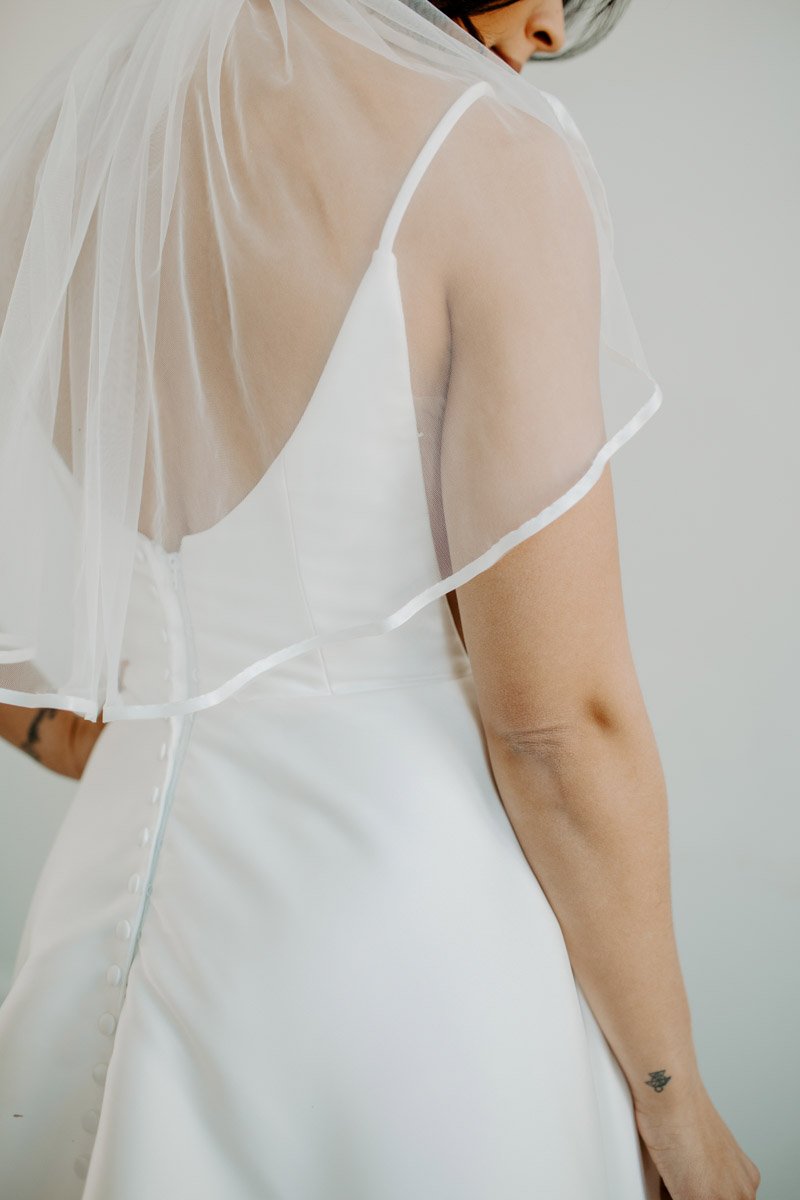 Satin Shoulder Veil shown on model
What are the different types of veils?
Here is a list of what we offer:
Plain (raw edge) – The most popular option. This type of veil suits any dress as it fades beautifully into the design/details of your dress. It's sheer and will let your wedding dress shine through. You can never go wrong with this one!
Satin edge – This type of veil has a light defined edge with a touch of satin. The ribbon is sewn flat to the front of the veil at the very edge.
Rhinestones – We love wedding veils with crystals or pearls for dresses that need a little something extra. This type of veil provides a beautiful accent and adds some glam to your overall look.
Pearls – Sophisticated and elegant. This style of veil provides a beautiful accent and adds a little weight to your veil (especially the beaded pearl veil – one of our faves)! A pearl veil can really frame a wedding dress in the most effortless way without feeling over the top.
How do I care for my veil when I receive it?
Finally, it's here! After frolicking in your veil, follow these simple are instructions:
STEPS TO A WRINKLE FREE VEIL
Hang your veil: It can be draped over a hanger or you can have someone hold the veil by it's comb.
Steam your veil: Get the steam going and wave it in a circular motion allowing the steam to pass through the tulle.
Spread it out: Your veil may be slightly damp after the steaming process. Spread it out and let it dry.
Store: Once dry, prepare your veil to be stored. If your wedding day is far away, fold your veil lengthwise and drape it over a hanger leaving as little folds as possible. This will make it easier when it comes time to steam again. If you have a spare bedroom or basement, you can clip your veils comb to a hanger and hang it on a high window frame and let it hang naturally. If your wedding day is near, hang your veil where it will be undisturbed after steaming (away from pets and sticky fingers). Mom's house is usually the best place!
Detailed care instructions will be provided with your veil.
VEIL CLIPS
We recommend getting a veil clip. These great clips are ideal for shorter veils that will hold your veil in place on a hanger without pulling or damaging your veil. Watch the wrinkles and creases on your veil release naturally! It's very useful for hanging your veil at home or at your venue.
USEFUL TIPS:
Don't have a steamer? Hang your veil on a hanger while having a hot shower. The steam from the hot water will loosen the veil folds over time.
Don't feel like steaming? Bring your veil to the dry cleaners!
Watch out for anything that may catch your veil (long fingernails, Velcro, rings)